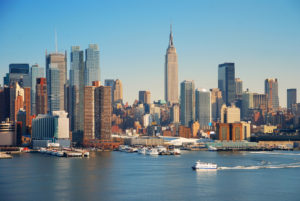 Perhaps you've decided going to college in New York City would be a perfect fit. Between the bright lights of Broadway, hundreds of museums and galleries, every type of cuisine imaginable, and shopping that can't be beat, NYC has so much to offer. The Big Apple is indeed an exhilarating place to attend college, but just as not all apples are alike, not all colleges and universities in NYC have the same appearance or flavor.
Recently, we at Discovery College Consulting visited six New York City-area schools. What follows are summaries of each.
Barnard College and Columbia University. While technically two separate institutions with separate application processes, Barnard and Columbia share almost everything. Located on the Upper West Side, the two campuses are across the street from one another. Step through the gates of either and you will feel separated from the hustle and bustle of New York. Barnard is a women's college, but because Barnard students take classes at Columbia and vice versa, both campuses feel co-ed. Each school has different core requirements that their students must complete, but otherwise students may take as many classes as they'd like at the other institution. In addition, Greek Life, clubs and organizations, women's D1 athletics and dining halls are shared. Barnard is much smaller than Columbia, but both schools pride themselves on small class sizes and professors who mentor and care about their students. Housing is guaranteed for all four years.
Fordham University. Fordham has two campuses, Lincoln Center (one block east of Broadway) and Rose Hill (in the north Bronx). Students may enroll in colleges of arts and sciences or business at either campus, however, the business school at Lincoln Center offers only one major – global business – and is much harder to get into. Each semester, about 20% of students take classes at the opposite campus from where they're enrolled, taking Fordham's "Ram Van," which shuttles students back and forth. Additionally, public transportation is easily accessible from both campuses. Fordham is a Jesuit university and students live the motto: "Men and women for others." In fact, by 2025 every class will have a community engagement component. Fordham offers about 180 clubs and organizations and athletics, but no Greek Life. Housing is guaranteed for all four years.
Hofstra University. Located in Hempstead, NY, Hofstra is 25 minutes from Penn Station in New York City and 25 minutes from the beaches south of campus. A mid-size university, Hofstra offers 165 undergraduate programs. The average class size is 21 and the largest classes have no more than 50 students. The campus is large, with residence halls and sports facilities on the north side connected to the academic buildings on the south side by three pedestrian bridges. 95% of students receive some type of financial aid, with the average gift aid being $25,800. Hofstra's students participate in D1 sports, though they do not have a football team. There are over 220 clubs and organizations, including Greek Life. Many clubs meet during Common Hour, when no classes are held from 1:00-2:25 on Mondays and Wednesdays. 60% of students hail from outside of New York.
New York University. NYU is the most city-centric school and the largest of those we visited. Located in lower Manhattan, NYU doesn't have a traditional campus feel. Instead, academic buildings and residence halls are sprinkled all over the area. Some programs aren't even in Manhattan; for example, the engineering school is in Brooklyn. The entirety of New York City is NYU's campus and students describe their school as a campus without walls. Housing is guaranteed for all four years and unlike many schools, no residence halls have communal bathrooms. Instead, students share a bathroom with one to seven others. Safety at NYU is taken very seriously. Because students travel all over the city, they have access to an NYU app which will summon help wherever they happen to be. There is also a free taxi service which runs from midnight to 7:00 am on campus. Study abroad is an NYU mainstay, with over 20% of the student body studying away every semester. Lecture classes at NYU can have as many as 300 students; however, any class with over 60 will also offer a smaller recitation section led by a teaching assistant. NYU's sports are D3 and students have access to college clubs and organizations as well as discounted tickets to theaters, museums and sporting events.
Sarah Lawrence College. Founded in 1926, Sarah Lawrence became co-ed in 1969, yet it is still 70% female. The small liberal arts college is located in Bronxville, NY, about 35 minutes by train from Grand Central Terminal in Manhattan. Modeled after Oxford University in England, almost all classes at Sarah Lawrence are seminar style, with about 15 students and a professor. Students must take four lecture style classes over the course of four years, which are typically capped at 45 students. In seminar classes, students meet every other week with each of their professors to discuss their work on the final project, which is required by every class instead of a traditional final exam. Projects are usually 15-20 page papers on a topic of the student's choice, related to the subject of the course. Because of the seminar style of education, students normally take three classes per semester. 70% of juniors and 10% of seniors study abroad. Sarah Lawrence students can apply to a 3+2 Engineering program with Columbia University. Housing is going through some changes and is no longer guaranteed for all four years, but most students who want to live on campus are able to do so.
In sum, if you think you'd enjoy going to college in or near New York City, you have many choices. With NYC as your backyard, you'll have plenty of opportunities to supplement your education by attending a Broadway show, going to an art gallery or museum, cheering on a professional sports team or trying exotic cuisine.