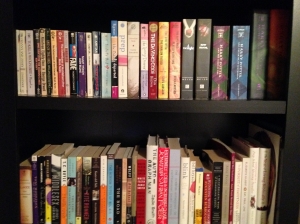 When I was in high school, one of my favorite things about summer break was that it afforded me the time and opportunity to read for pleasure, a hobby that frequently got pushed to the back burner during the school year.  A voracious reader, I spent many summer days engrossed in a book, be it an old favorite that I was re-reading for the umpteenth time or a new book that I was eagerly discovering.
These days, many high school students' summers are so jam-packed that they have little time to read.  When they do, often they have to spend it reading books that were assigned by their school.  Many of my students have told me that reading for school (both during the year and over the summer) essentially has eliminated their desire to read for pleasure, and that makes me sad.
There are so many wonderful books out there, especially in the young adult genre, which is much more robust than it was when I was a teenager.  Even as an adult, I continue to read books that are categorized as "young adult", both because they give me something to talk about with my students and also because many such books simply are excellent literature.  I've even borrowed some of these books from my students!
The Washington Post recently published a list of recommended summer reading for high school students and their parents.  The recommendations came from college admissions officers and high school counselors, and they include books about college and college admissions, other nonfiction books, and fiction.  So carve out some time in your busy schedule, find a quiet spot, and enjoy!