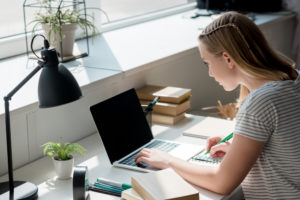 For high school juniors, COVID-19 has really thrown a wrench into their college preparation and search process.  ACT and SAT test dates have been cancelled, AP exams are being given online, and the ability to visit college campuses has been suspended for an indefinite amount of time.  Many juniors were planning college visits during spring break and had to scrap their plans when campuses started sending students home and canceling tours and information sessions.
So, if you're an eleventh grader who's trying to decide where to apply, how can you research colleges without being able to set foot on campus?  The good news is, there are now more resources than ever to help you in your college search.  Here are some of them:
College Search Websites: College Board's Big Future website allows you to select several criteria, like location, size, selectivity, and specific majors, and then see a list of matching results.  You can also look up individual schools.  This website is a good place to start, as it provides basic information about colleges, such as location, size of the student body, acceptance rate, average test scores of accepted students, tuition, and financial aid information.  College Data and College Navigator offer similar search features and information, as does Naviance, which some high schools use.  (Note that in order to use Naviance, your school must have a subscription.)
Colleges' Websites: Every college has its own website, and these are the best source for finding information about specific majors and other academic programs, sports, and extracurricular activities.  While the websites above are a good starting point for your research, these sites are not always accurate with their lists of available majors, so you should always check the college's own website to be sure.
College Lists: CollegExpress has over 800 lists of colleges based on specific and, in some cases, unusual criteria.  For example, the lists include "Colleges for the Independent Learner," "Colleges with Innovative Academic Programs," "Colleges for the Shy Student," and "Colleges with Badminton Clubs."  There are also lists of colleges with great programs in just about every major you can think of.  The lists on this site come from a book called The College Finder, which was written by my colleague and friend, Steve Antonoff.  Some of the lists say "produced by the experts."  Those experts, according to CollegExpress, are "admission representatives, high school counselors, educational planners, and other industry pros."
Student Review Websites: Niche, Cappex, and Unigo provide ratings and reviews from current students on everything from a college's professors to its party scene.  While these reviews are helpful, keep in mind that people are more likely to speak up when they are dissatisfied than when they're satisfied.
Virtual/Video Campus Tours: This spreadsheet has an alphabetized list of colleges with links to virtual/video tours on several websites.  CampusReel offers shorter tours of different parts of campuses, i.e., a residence hall, a classroom, a dining hall, etc., and they're all led by current students.  Some of the "tours" are simply videos of students talking about specific aspects of campus life.  You can also check colleges' own websites for video tours.  Typically, these will be in the Admissions or Visit sections of the websites.  Many more colleges have created video tours since their campuses closed due to COVID-19.
Virtual Admissions Events: As with virtual/video tours, more colleges are offering virtual information sessions than ever before.  Some are even offering students panels and/or opportunities to connect one-on-one with a current student.  This spreadsheet has a list of colleges, with descriptions of and links to their virtual events.  If a college isn't on the list, check the Admissions or Visit section of its website for information on virtual events.
Your Network: Ask the people you know if they know anyone who currently attends or recently graduated from the colleges you're interested in.  Email your school counselor to find out if any recent graduates from your school attend(ed) those colleges, then ask if your counselor can put you in touch with those people.  Ask your friends if they have older siblings, cousins, or friends at schools you're considering.  Your parents' friends and colleagues might also know current college students.  Once you've gotten someone's name and contact information, send an email or text and ask if they'd be willing to schedule a phone or video call.  (I know most teenagers prefer texting over calling, but you're likely to get more useful information from a call than from texting because the other person will have to respond in the moment, rather than being able to contemplate what they're going to say.)  Prepare a list of questions about what's important to you, and take notes during the call.
Although the above resources can't replace an in-person visit, you'll be able to get a great deal of information if you put in some time and effort.  This can help you narrow down your list to the colleges you actually would like to visit, and hopefully, by this fall, you'll be able to do so.