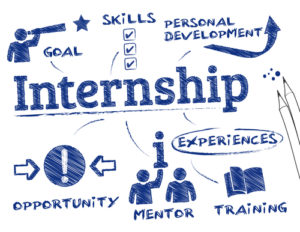 In today's job market, experience almost always gives you an edge.  This is especially true for college students and recent college graduates who are looking for their first job.  One of the best ways to get relevant experience is through an internship, and colleges are doing more and more to connect their students with internship opportunities.
But internships aren't just for college students.  Doing an internship in high school can help students identify and refine their career goals by giving them exposure to a field they're thinking about majoring in.  For example, let's say you're interested in engineering.  Before you narrow your college search to schools with strong engineering programs or spend a year or two pursuing an engineering degree before getting any real-world experience, wouldn't it be helpful to determine if engineering is really what you want to do?  An internship can help you make that decision.
In recent years, a growing number of the high school students with whom I've worked have sought out and gotten internships.  While many companies and organizations only offer internships for college or even graduate students, some are open to high school students.  That said, depending on where you live, you should expect to devote a significant amount of time and effort to finding a high school internship.
Summer is a great time to do an internship, and now is the time to begin researching options, as many application programs are in the next couple months.  First, you should decide what field(s) you're interested in, i.e., business, healthcare, education, engineering, government, law, or the non-profit sector.  You also need to decide if you want to limit your search to local opportunities or broaden it to other areas, with the understanding that you may be on your own to arrange housing and transportation.
Next, talk to people you know.  Ask your parents, relatives, neighbors, etc. if their places of employment have internships for high school students or if they have connections with people whose companies offer such opportunities.  If you're interested in the science field, ask your science teacher.  If medicine is your passion, talk to your doctor.  You can also ask your school counselor if he/she knows of any internship programs.  Your classmates, especially those who are a grade or two ahead of you, might have done an internship; therefore, they are another good resource.  Finally, you can do a Google search for "high school internships in _______" (insert field of interest and location).
Once you've gathered information about internships, find out what you have to do to apply, and be aware of deadlines.  If you learned about an internship from someone who has a connection to an organization, ask if that person will make an introduction, and then be sure to follow up.  You may have to complete an online application and/or send a cover letter and resume.  A recommendation letter might also be required, and you should be prepared for an interview.
To help you get started with your search, here are some internship opportunities in the Denver metro area: