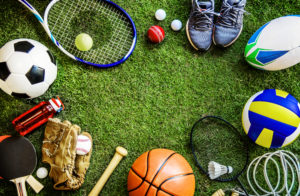 High school students participate in sports for a variety of reasons: they thrive on the physical challenge, they enjoy the camaraderie of the team, they are motivated by competition, etc.  Whatever your reasons, hopefully the chance of a college athletic scholarship is not high on your list.  The odds of playing a varsity sport in college are slim, and the odds of getting an athletic scholarship are even slimmer.
Often, the prospect of a scholarship is among the main reasons parents encourage their kids to play sports, and some parents shell out tens of thousands of dollars with the hope that a scholarship will offer them a return on their investment.  According to a recent Wall Street Journal article, in 2018, the average cost to participate in elite and select teams was over $3,000, up from about $1,500 in 2008.
If you're only paying about $3,000/year, consider yourself lucky.  Depending on the sport and the student's level of involvement, participation can cost much, much more.  The WSJ article listed the average costs in 2018 for hockey, football, baseball, basketball, and soccer.  The costs included fees for special coaching and camps; registration, venues, and uniforms; tournaments and travel; and equipment.  Of the aforementioned sports, the most expensive was hockey, which cost an average of over $25,000 in 2018!
The article referenced a 2019 survey by TD Ameritrade in which "40% of parents said they felt confident their child would get an athletic scholarship."  In reality, only 2% of high school athletes get a college scholarship, according to the NCAA.  Of that 2%, most are not getting a full ride.  In addition, many college athletes receive no athletic scholarship, as only colleges with D1 and D2 teams can award these scholarships.
Putting aside the financial incentives (or lack thereof) for playing a sport in college, students also need to consider the time commitment.  Playing a varsity sport, especially at the D1 or D2 level, can feel like a full-time job, and you will have to balance that with your academics.  There may be little or no time to participate in other extracurricular activities, much less to just hang out with your friends.  Think about everything you'd like to gain from your college experience, and ask yourself if being a varsity athlete will allow you to achieve your other goals.  If not, then perhaps a club or intramural sport would better meet your needs.
If you happen to be one of the lucky few who is recruited and offered an athletic scholarship, it's important that you not choose a college solely for a sport.  In considering colleges, ask yourself this: if you were injured in the first week of your freshman year and could no longer play (in which case you might lose any athletic scholarship you'd received), would you still want to go to that school?  If the answer is no, then you should look elsewhere.