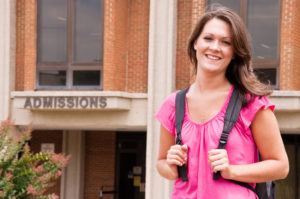 I recently had the privilege of hearing admissions counselors from three highly selective colleges discuss their schools' approaches to admissions.  They provided information about and insight into what might appear to be a murky and mysterious process.  By sharing what I learned from these admissions officers, I hope to help students and parents better understand how highly selective colleges review applications and make decisions.
First, a word about what I mean by "highly selective."  For this year's freshman class, all three colleges had an acceptance rate of under 20%.
As is the case with most selective and highly selective colleges, all three take a holistic approach to the admissions process.  This means they don't just look at students' GPA's and test scores; rather, they also consider the rigor of a student's courses, trends in their grades, their activities, essays, and recommendation letters.  In regards to transcripts, one admissions counselor said his college does not have a GPA cutoff; another said she wants to see more A's than B's and more rigor than less.  The third said she wants to see students challenge themselves but that they shouldn't sacrifice their grades or mental health.
Many of the college consultants listening to the presentation applauded when one admissions officer said, "Asking students to do high school perfectly – where's the fun in that?  I'd rather see students challenge themselves appropriately.  I'd rather see students take a harder class and get a lower grade."  Nonetheless, all three admissions counselors agreed that while a C doesn't necessarily result in an automatic denial, a student needs to offer a compelling reason for that C, and even then, the student may not be admitted.
In regards to test scores, two of the colleges are test-optional.  The admissions officer from one of those schools advised that students submit scores that are at the college's median or higher.  The admissions officer from the third school, which is not test-optional, explained that scores are an important factor but are nonetheless just one factor.  She added that her college does not have a test score cutoff and that students whose scores are lower than the college's average could still get in if they are outstanding in all other areas.
The admissions counselors also discussed how they read applications.  At all three colleges, two people read each application.  This may be done separately or together, with each person reading different parts of an application.  Then, all or some applications may go on to a "committee," meaning they are reviewed by a larger group of admissions officers.
After the committee, the colleges then engage to a greater or lesser extent in "shaping," whereby they refine their admissions decisions based on institutional priorities.  Such priorities may include wanting more students in a particular major; seeking to increase the student body's socio-economic, racial/ethnic, or geographic diversity; or needing to fill certain positions on an athletic team.  These priorities can change from one year to the next.
All three colleges are "need-aware," meaning they consider students' financial need when making admissions decisions.  However, the point at which need is considered during the process varied among the schools.
Finally, the admissions counselors addressed reasons why an applicant who appears qualified might not be admitted.  Two admissions officers said they consider whether students are a good fit for their college not just academically but also socially.  In other words, will the applicant be a good member of the college's community?
While all of this information hopefully sheds some light on admissions at highly selective colleges, it is still a very nuanced process.  Therefore, students who are applying to highly selective schools should also apply to less selective schools where they are more likely to be admitted.