It's been 30 years s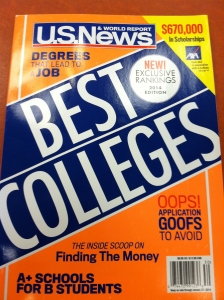 ince U.S. News & World Report published its first "Best Colleges" rankings in 1983.  Since then, the hype and fanfare around these lists seems to have grown exponentially. But what do these rankings really reflect, and how valuable are they to high school students and their parents who are looking for the "right" college?
According to The Washington Post's Valerie Strauss, not very.  In her September 10 column, she lambasted U.S. News for using a methodology that, despite significant changes this year, still puts the greatest weight on a college's "academic reputation".  And who determines this reputation, on which 22.5 percent of each college's rank is based?  OTHER colleges.  That's right — presidents, provosts, and deans of admission at what the magazine calls "peer institutions" are asked to rate their competitors' academic excellence.
In her article, Ms. Strauss questions the ability of these individuals to accurately judge the academic excellence of their own colleges, much less that of others.  I couldn't agree more.  Isn't there something inherently unfair (if not unethical) about having people whose first priority is their own college's success judge other colleges?  Wouldn't it be in these individuals' best interest to rate peer institutions less favorably in order to boost the rankings of their own colleges?
Ms. Strauss points out that U.S. News also seeks input from high school counselors, and their ratings of colleges factor into the academic reputation measurement as well.  But she also mentions that a 2012 report from the National Association for College Admission Counseling (NACAC) stated that the majority of high school counselors don't think the U.S. News rankings are an accurate representation of colleges' quality.  According to NACAC's report, only 5.5% of high school counselors surveyed felt that the peer assessment portion of the rankings is a "good indicator" of college quality.  What's even more interesting is that only 6% of college admission professionals felt it was a good indicator!
In upcoming blog posts, I will address the increasingly prevalent issue of colleges engaging in unethical behavior in an attempt to boost their U.S. News rankings.  I also will identify other rankings systems that, in my opinion, provide more valuable assessments of the quality of education students receive.  But, in looking at any sort of rankings, it's important to keep in mind that regardless of whether a certain college is number one on a list, the most important thing is to find the school that's number one for you.