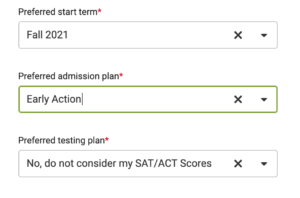 For this year's high school seniors, taking the SAT and ACT has proven to be even more challenging than expected.  Beyond the difficulty of the tests themselves, the cancelation of multiple test dates in the spring and summer has added to students' anxiety.  Some seniors took these tests for the first time only in the last month or two, and others have yet to be able to take them.
Because of these challenges, an increasing number of colleges have become test-optional, at least for the Class of 2021.  According to the National Center for Fair and Open Testing, which advocates for decreased reliance on standardized tests in the college admissions process, over 1,570 four-year colleges and universities in the U.S. (more than two-thirds of the total) are test-optional for students applying to start college next fall.
But what does "test-optional" really mean?  Should students submit their test scores if they are "good?"  Will those who don't submit scores be at a disadvantage?
When more colleges started jumping on the "test-optional" bandwagon a few months ago, I continued to encourage all of my students to take the SAT or ACT if they were able to do so and if they and their parents felt comfortable with it.  I thought, as did many in my profession, that strong test scores would give students a leg up in the admissions process.
As it turns out, that won't actually be the case at hundreds of colleges.  In August, the National Association for College Admission Counseling (NACAC) published a statement entitled "Test-Optional Means Test-Optional."  Over 500 colleges have signed this statement, which "affirm[s] that they will not penalize students for the absence of a standardized test score."  You might assume that all or most of the schools that have agreed to this statement are not very selective, but you would be wrong; the list includes such colleges as Amherst, the University of California system, Duke, Georgia Tech, Harvard, Pomona, University of Michigan, Williams, and Yale.  To see the full list, click here.
This list surely will offer welcome relief for some students, but others may still wonder if they should submit their test scores.  While I will be advising each of my students on this individually, my general advice is that if your scores are at the high end or above the middle 50% for a particular college, you should submit them.
It will be interesting to see how many of the colleges that have implemented a test-optional policy only for this year will continue it in subsequent years.  My guess is that once colleges complete an admissions cycle without having test scores for all applicants, they will realize (as hundreds of colleges that were test-optional prior to the pandemic already had), that decisions can, indeed, be made without scores.  Therefore, I think many of these schools will become test-optional permanently.
I'm not the only one who has made such a prediction.  Jeff Selingo has written about higher education for several publications and has published three books on the subject.  He recently was quoted in the New York Times as saying, "We're going to have a whole admissions year with scores of places going test-optional.  Once their world doesn't come crashing down and they still recruit a class, those colleges are not going to flock back to the test. I think it's been knocked off the pedestal permanently.
As with so many unknowns that have been created by COVID-19, only time will tell.