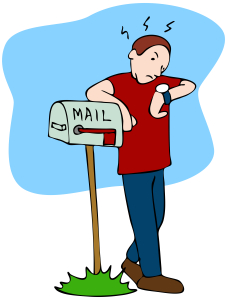 For high school seniors, the bulk of the work involved in applying to college is now over, as most regular decision deadlines have passed.  However, for some students, the hardest part of the process has just begun: waiting to receive admissions decisions from colleges.  This may be especially difficult for students who were deferred during early action or early decision and are now being reevaluated by a college.  So, what can students do to pass the time for the next couple months, as well as to potentially increase their chances of being admitted?
Stay busy.  Continue to participate in activities, spend time with friends and family, pursue hobbies, and do whatever else you typically do to fill your time.  The less downtime you have, the less time you'll spend agonizing over what schools you're going to get into.
Keep your grades up.  Although it can be tempting to slack off, now that your college applications are behind you, this is the worst possible thing you can do.  As I explained in another blog post, colleges have the right to rescind offers of admission, and a big drop in grades is one of the most common reasons why they do so.
Send an updated transcript to colleges.  Many high schools don't put students' first semester grades on transcripts prior to college application deadlines, so the schools send transcripts with grades through the end of junior year.  It's very important to make sure your school sends an updated transcript to each of the colleges to which you applied.  Don't assume that this will be taken care of automatically; if you haven't already, you should see your counselor or registrar ASAP to request that they send transcripts with your first semester grades.
Continue to demonstrate interest in colleges.  This is something everyone can and should do, but it's especially important for students who applied early and were deferred, as colleges are more likely to accept deferred applicants who've shown they're still interested.  While you don't want to contact the college so much that you become a pain, sending an email or two is perfectly appropriate.  If the college has an admissions officer who's assigned to your state, you should email that person directly, rather than using a general email address.  In your email, explain that you're excited you're still being considered for admission and that the school is still your first choice (if that's the case).  You also can demonstrate interest by interacting with the college on social media.  Again, just don't overdo it.
Update colleges on your accomplishments.  As with the previous point, this is especially important for those of you who were deferred.  If you've had any major achievements since you applied (other than your grades), email the college about them!  You also can mention them in an interview.  Such accomplishments include receiving an award, getting a job, winning a championship game, etc.  You SHOULD NOT tell a college that you were accepted at other schools.
By following these tips, hopefully the time between now and when you begin receiving admissions decisions will go by much more quickly!