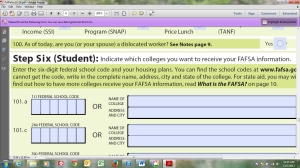 The Free Application for Student Aid, or FAFSA, is used to determine students' need for financial aid, and, subsequently, the amount of aid they are awarded.  Any student who wishes to apply for financial aid from colleges and/or the government is required to fill out this form.  So it may come as a surprise to students that what you put on the FAFSA may actually hurt your chances of admission and aid at some colleges.
When students fill out the FAFSA, they are asked to list the colleges they're interested in attending.  Studies by colleges and enrollment management consultants have found that many students arrange the list in order of preference.  In other words, they put their first choice schools at the top of the list and their last choice schools at the bottom.  Ordering things in this way is a natural human tendency, and most students are not aware that doing so on the FAFSA could be used against them.
But, unfortunately, that's exactly what's happening.  The U.S. Department of Education shares the contents of each student's FAFSA with all of the colleges listed.  Some colleges then use the list in their admissions decisions.  That is, if a college believes a student is not particularly interested in it (because the college is at the bottom of the student's list), the college might deny that student admission or put him or her on the waitlist.
Colleges also may consider their position on a student's list when offering financial aid.  If a school is of high interest to a student, as indicated by it being at or near the top of a student's list, some colleges will offer a smaller financial aid package to the student.  The idea is that if a student really wants to attend the college, he or she will find a way to pay for it despite an inadequate financial aid offer.
David Hawkins, director of public policy and research for the National Association for College Admission Counseling (NACAC), believes private colleges are more likely to use their FAFSA position to influence their decisions about admission and financial aid.  These colleges are using this information to try to improve their yield, or the percent of students offered admission who actually enroll in the college.  While Hawkins did not name any particular schools that are engaging in this practice, he acknowledged that some are.  He also speculated that most students are unaware that colleges are doing this.
It's unclear whether even the Department of Education was aware of this practice.  However, after being contacted by Inside Higher Ed, which published a story on the issue, the department said it would review its policy of sharing with colleges their positions on students' list.
It also seems that the Department needs to reconsider the information it gives students about how their FAFSA is used.  A 2012 FAFSA guidebook explains that the order in which students list colleges will not be used by the federal government to calculate financial aid but that it may be used by states in determining their financial aid awards.  Additionally, several states actually require students to list state colleges first.
The guidebook does not indicate that the order of colleges may be used by colleges themselves.  In fact, the FAFSA directions say, "For state aid, you may wish to list your preferred college first."
Until such time as the Department of Education changes the information it provides to colleges, or at least revises the FAFSA's instructions, it's probably best for students to list colleges in alphabetical order.  Doing so will make it more difficult for colleges to gauge your interest and to use that information in their admissions and financial aid decisions.