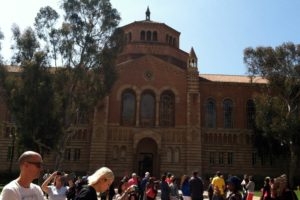 Many people wonder about the need for a college visit, especially when most colleges now offer virtual tours.  Yet, if you ask these same people if they'd buy a house without seeing it or a car without driving it, the answer is usually an emphatic "no!"  Given the emotional and financial significance of deciding where to go to college, the importance of visiting campuses cannot be overstated.  A college can look and sound perfect, but until you set foot on campus, you won't get a true sense of whether it's a good fit.
As Haley Bannon, a college freshman, put it, "Visiting schools is the most important [part of the college search] because the feeling you get while visiting is going to tell you where you belong.  Your gut knows what's best for you."
How do you make the most of college visits?  Often, students do nothing more than attend an information session and take a campus tour, yet there is much more that can and should be done during your time on campus.
During a typical information session, an admissions officer will talk about the college's programs and opportunities and may also provide insight into its admissions process.  On a tour, visitors will learn about the college's history and will see the exteriors and interiors of various buildings.
Visiting a college during the school year also gives you an opportunity to observe the students.  As you walk around, pay attention to students' behavior and interactions.  Do they say hello and talk with each other, or do they have their heads down, focused on getting to their next class?  Do you see students with whom you think you'd fit in?  If you're looking for a diverse student body, do you see evidence of that?
Since tours are usually led by a current student, they can offer an insider's view of the college.  Ask questions about the tour guide's academic, extracurricular, and social experiences.  What does the guide like and not like about the school, and are they happy overall?  What other colleges did they consider, and why did they choose this one?  If they had it to do all over again, would they make the same choice?
It's important to keep in mind that the admissions officers who conduct information sessions are employees of the college.  At many schools, tour guides get paid, too, and even if they don't, they only offer one perspective.  Therefore, you should seek other students' opinions.  If you know anyone who currently attends or recently graduated from the college, those individuals are great resources; if not, don't be afraid to speak to students while you're on campus.  It can seem intimidating, but these individuals are your best sources of unbiased information.  If you approach several people and no one is willing to talk to you, that tells you something, too.
Many colleges offer high school seniors the chance to spend the night in a dorm with a current student.  Again, this may seem a little scary, but it's an unmatched opportunity to experience campus life for yourself.  That being said, you probably shouldn't spend a night on campus the weekend before mid-terms or finals, as you won't get to see what occurs on a typical weekend.
You also can use a college visit to dig deeper into its academics.  Find out if you can sit in on a class, and if you can, make sure to choose one in a subject that interests you.  If you know what you want to study, contact a professor in that department and ask if you can meet with them, and be sure to come prepared with a list of questions.
Depending on your needs and interests, you might also want to meet with a financial aid officer, the coach of an athletic team, or someone who works with students with disabilities.
Many colleges offer on-campus interviews for seniors.  These are typically conducted by admissions officers, but sometimes the interviewers are students.  An interview not only enables the college to learn more about you; it's also a chance for you to ask questions and learn more about the college.
Be sure to check out the surrounding area as well.  Ask students how often they go off-campus, and find out if the college provides transportation anywhere or if public transportation is easily accessible.
By taking advantage of the aforementioned opportunities, you can make the most of your time on a college campus, and this will help you determine whether to apply.