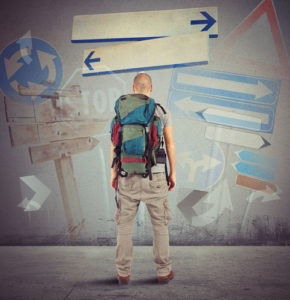 Students and parents frequently ask me how important it is to determine what you want to major in before you go to college.  As with so many aspects of the college search and admissions process, the answer is, "It depends."
Some would say that the whole point of going to college is to explore different subjects and figure out what you are most interested in.  The majority of colleges have a number of general education requirements (also called distribution requirements or a core curriculum) that essentially force students to do this kind of exploration.  For example, students might be required to take an English composition course; a math course; and a few courses each in the humanities, social sciences, and sciences.  They might also have to take courses that expose them to other countries and cultures, perhaps by studying a foreign language.
Students typically take most of their general education classes in the first 1-2 years of college, and at most schools, they don't have to declare a major until the end of their sophomore year.  So, generally speaking, you don't have to know your major before you start college.
There are exceptions, however.  At many medium-sized and large universities, you don't apply to the university itself but to a specific school or college within it, such as the college of arts and sciences, the business school, or the engineering school.  Therefore, while you might not need to know your specific major when you apply, you would need to know the general area you were interested in studying.
Some people ask if you have a better chance of admission to college if you indicate interest in a certain major.  Again, it depends.  If you say that you plan to major in a subject that's not very popular at a particular college, it could potentially help you get into the school.  Nationwide, business and psychology are the most common majors, while classics and philosophy are among the least common.  Yet a major that is very popular at one school may not be so popular at another, and you shouldn't indicate an interest in a major just as an admissions strategy.  If you really want to major in psychology, say so, but if you have absolutely no interest in philosophy, don't say you plan to major in it simply because you think doing so will help you get in.
If you think you know what you want to major in, it goes without saying that you should look for and apply to colleges that offer that major.  If you are undecided (and the most popular college major for first year students is undecided), there are a few considerations to keep in mind:
Big vs. small college.  You might be tempted to go to a large university with many different options for majors so that you can explore more subjects.  However, a large university may not allow you to take many classes outside of the college or school in which you are enrolled, so you might not actually be exposed to as many subjects as you would at a smaller school.
Advising. At most colleges, you will be assigned an academic adviser at the beginning of your freshman year who will help you select classes, make sure you're on track to graduate on time, and possibly decide on a major.  Some schools have advisers whose sole role is advising; at other schools, professors serve as advisers.  Once you choose a major, you will request or be assigned to an adviser who is a faculty member in your department. The advising system can vary greatly from one school to the next, so it's important to investigate how it works at the colleges you're interested in.  Students at smaller colleges are likely to get more guidance and support from their adviser and other adults in choosing a major, which is another reason why a smaller school might serve an undecided student better than a larger one.
Transferring within the college. If you're considering a university where you have to apply to specific college or school within it, it's important to research the process of transferring within the university.  At some colleges, this process is very easy, but at others, it's rather difficult.  The ease of transferring might also depend on which of the university's schools or colleges you want to transfer into.  For example, it might be relatively easy to transfer into arts and sciences but much more difficult to transfer into engineering.  Typically, the harder it is to get into a specific school or college when you apply to a university as a freshman, the harder it will be to transfer into it once you're a student there.
Programs for undecided students.  Some colleges offer special programs for undecided students.  For example, Ithaca College's Exploratory Program provides extra advising and gives students first priority to register for classes, thus giving them more opportunities to try out different subjects.
Whether you know what you want to study or are completely undecided, hopefully this blog post will help guide you in your college search.