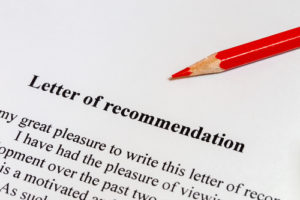 As the school year winds down, college recommendation letters are probably the farthest thing from high school juniors' minds.  AP and IB exams, finals, prom, and friends' graduations are likely dominating students' thoughts and schedules, while applying to college and all it entails may seem a long way off.  However, now is the time to think about and ask your teachers for the recommendation letters you'll have to submit with your college applications.
Many juniors don't yet know where they're going to apply to college, and that can make it difficult to decide whom to ask for teacher recommendations, as different colleges have different requirements.  Some colleges don't require any recommendation letters, whereas others ask for multiple letters.  At most, applicants will need to submit two recommendations from teachers.
Whom should you ask for these letters?  If you know where you're applying, check those colleges' requirements.  If you don't, note that most colleges require letters from teachers you've had for core academic subjects: English, math, social studies, science, and foreign language.  That means letters should not be written by teachers of such subjects as P.E., family and consumer sciences, business, music, or visual and performing arts.  (Of course, there are exceptions; for example, if you're applying to a music or arts program, you may need to submit a letter from a teacher of that subject.)  Teacher recommendations also should not come from a coach or club adviser, unless that person has also taught you in a core academic subject.
Some colleges require that recommendations be written by teachers you've had in 11th or 12th grade.  If you had a teacher in your freshman or sophomore year whom you'd like to ask for a letter, that's ok as long as you know you're going to have that teacher again your senior year.
It should go without saying that you should request letters from teachers in whose classes you did well and with whom you have a good relationship.  That said, if you struggled in a class but worked really hard, that can make for a great letter.
Although you shouldn't need more than two teacher recommendation letters, many colleges give applicants the option of submitting an additional letter.  Therefore, if you have a coach, club adviser, or employer who you think would write a strong letter that would provide information not found in your teachers' letters, you can still ask that person to write a recommendation for you.  However, in most circumstances, it is best not to submit more than one additional letter.
Once you've figured out whom you want to ask for recommendation letters, you should talk to those teachers before the school year ends.  There are two important reasons for this: first, many teachers like to write their letters over the summer; second, some teachers will only write letters for a certain number of students, so by asking early, you're more likely to get your first-choice teachers to write letters for you.
You should request recommendation letters in person, which is another reason for doing so before the end of the school year.  Once a teachers agree to write a letter for you, ask them if there's anything you can provide to help them with their letter.  Some high schools have a form students must complete for their teachers, or individual teachers might have such a form or might ask you for a resume.  If a teacher requests any of these items, be sure to provide them in a timely manner, especially if you know that teacher is going to write your letter over the summer.
Do not ask your teachers to show you their recommendations.  On most college applications, you will be asked whether  you waive your right to review your recommendation letters.  I advise students to do so because your letters will carry more weight if the college knows you haven't seen or had an influence on them.  If a teacher offers to show you his or her letter, you should politely decline, explain that you've waived your write to see your recommendations, and say you trust your teacher to write a good recommendation for you.
After a teacher has written a recommendation letter for you, give him or her a thank-you note, preferably one that is hand-written.  This is a thoughtful gesture that acknowledges the time and effort your teacher put into writing a letter for you, and teachers really appreciate it.