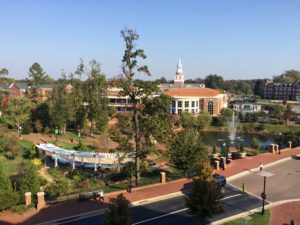 When entering the gates of High Point University, immediately you are treated like someone special. Driving in from the gate, you will see your name on a parking space to welcome you to your visit. From that moment on, you are met with opportunities, personalized touches, friendly people, and intentional programs.
I was immediately welcomed by my first name when I got to the visitor center in the student center. The student center (one of two) is a contemporary building that houses a Starbucks, a lot of great seating areas for studying, a cafeteria, and a gym. I could tell that many people enjoy de-stressing in this space as well as studying. I was soon escorted by my tour guide to my individualized tour on a golf cart as I passed by computers that wished individual students a happy birthday.
The grounds of High Point are something out of a movie – lovely fountains, beautiful green spaces, huge fireplaces, large outdoor couches, colonial brick buildings. One could think from the aesthetics that this is all the campus has to offer, but that person would be wrong. The campus has so many intentional design components that were fascinating to hear about. One example – as we drove along the main quad in the golf cart, the tour guide explained to me that the classical music I was hearing played 24/7 because classical music has been proven to improve brain function. This was my first indication that I had come upon a school that genuinely cares about its students.
As we moved further along in the tour, I learned about many other parts of campus that have intentional design. One of these was the business school. The business school's lobby essentially transports students into the lobby of a large company's headquarters.  This is to help students learn to hold their heads high when they enter the business world and have to visit places such as this, which sometimes can be overwhelming.
The next space that impressed me was the game development learning room. From a "box" where students can put on body suits and create character movements to a large screen display that allows students to design games and see how the games adapt to larger environments, it was clear that students who are majoring in or have co-curricular interests in game development have state of the art facilities in which to learn in a hands-on manner. The same could be said for the Wall Street room, the education program classrooms, and the broadcast journalism rooms. In fact, my tour guide told me that a reporter came to lecture at the campus and said that these classrooms were better than her professional studios.
One other space worth mentioning is Cottrell Hall. Created to have a single facility for career development, experiential learning, study abroad, and first year success, this center helps with student success in a big way. In addition to a typical career center, students can do mock interviews in rooms laid out for specific jobs. If you are interested in healthcare, you will do a mock interview in a room set up for that; if you're applying for jobs in business, there is also a room for that. This building also houses success coaches who hold weekly one-on-one meetings with first year students to make sure that they are getting a successful start at High Point.
With regard to academics, programs are designed to be hands-on and experiential from the beginning; the education program at High Point gets students into classrooms in the first year. The interior design program is innovative and provides many hands-on opportunities for students such as creating living room dioramas. The theater program has been rated one of the top ten programs in the country. Internships are required for all students and undergraduate research is something students regularly take advantage of.
And, a visit wouldn't be complete without talking about student life. With so much to do on campus, there is little need to go off-campus. For example, there is a high-end steakhouse that is included in the meal plan once a week, established to help teach students etiquette for dining out in professional meetings! Greek Life is fairly popular, with about 40% of students participating. There are Division 1 athletics for those who are interested in attending sporting events and having the school spirit to go along with it. Students can also see movies in the movie theater, eat at the arcade, swim in one of the many pools, and participate in a variety of student organizations.
Students are required to live on-campus for three years, but the housing options are extremely luxurious. I have rarely seen housing as nice as High Point's—there are even options on-campus where students can have double beds instead of the traditional twin!
Tuition is considerably lower than at most private schools: $46,000, which includes a meal plan and housing. Unfortunately, High Point does not provide 100% of the remainder of the cost after the FAFSA determines what the family contribution should be. Typically speaking, low income students would potentially be discouraged. One of the future strategic goals is to address this issue.
High Point accepts about 80% of its applicants, so it is a great choice for students of varying credentials, including high-achievers and those who may not have been high-achievers in high school.