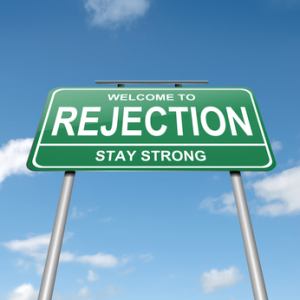 Whoever decided that April 1 should be the national notification deadline for college admissions decisions had a rather twisted sense of humor: "Hey, let's make April Fool's Day the final day for high school students to find out if they were admitted to or denied from the colleges of their choice!"  For many students, April 1 and the days and weeks leading up to it have brought a range of emotions, from excitement and elation about being accepted to disappointment, discouragement, and even depression about being rejected.
Let's face it, rejection hurts.  Whether it comes in the form of a potential prom date who turns you down, a sports coach who cuts you from the team, or a drama director who doesn't give you a part, one's self-esteem is, even if only temporarily, shaken.  This is especially true in the case of college admissions.  Students, their parents, and society in general put so much emphasis not only on going to college but on which colleges students go to that those who don't get in to their top choices can feel like utter failures.
For those of you who are feeling that way, I get it.  It's been fifteen years since I received my own college admissions decisions, and for some unexplainable reason, I'm still slightly bitter about the one college out of six that didn't accept me.  Even though it didn't take me long to realize that this school probably wasn't a great fit for me, it still was hard to swallow the fact that it "didn't want me".
Along with all of my acceptance letters, I still have that one rejection letter.  "Why keep it?" you ask.  I honestly don't know.  Maybe I'll use it as a life lesson when I have kids of my own and they don't get accepted to every college to which they apply.  Maybe it'll even come in handy sooner than that, and I can show it to the students with whom I work who've also experienced rejection.
If you've been denied admission, I'm going to echo what you probably already have heard from many other people: a denial does not mean there is anything wrong with you.  This year's admissions landscape was extremely difficult, especially at our nation's most selective colleges, many of which reported record-low acceptance rates as a result of record numbers of applications.
Consider these acceptance rates:  Stanford: 5%; Harvard: 6%; MIT: 8%; University of Pennsylvania: 10%; Northwestern: 13%.  The acceptance rate at my alma mater, Washington University in St. Louis, was 17%.  For years, I've said that if I were to apply there now, I probably wouldn't get in.
While I could continue to ramble on, offering advice to students on how to deal with being rejected from a college, instead I'm going to defer to a recent New York Times article that I think provides some much-needed perspective on this issue.
It's ok to be upset, and it's ok to grieve.  Give yourself time to do that, and then move on.  Consider all the amazing colleges that do want you and did offer you admission.  At least one of them is certain to be a great place for you.