Guest blog post by Marcia Bannon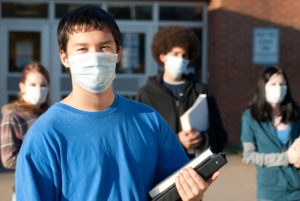 Sending your child 2,000 miles away for their freshman year of college is never easy. Will they be homesick? Will they get along with their roommate? Will they be successful in their classes? In the age of coronavirus, it can be even more anxiety-producing for parents: Will my child get sick? How will the university handle it if they do? What will we be able to do from so far away?
In early August, I took my son to the University of Miami to start his freshman year. Every student, staff person, and faculty member was required to have a negative COVID test before arriving on campus. I got him moved in, unpacked and settled, and one week later he started classes. All was going well – he and his roommate seemed compatible and might even become good friends. The boys on his floor had bonded and were doing things like playing basketball outside (while wearing masks) and eating "together" in the socially distant dining hall. He had attended each of his classes at least once in person. Then, at the end of his first week of classes, COVID-19 became a reality for him, as well as for my husband and me.
Two boys on our son's floor went to the health clinic because they were experiencing symptoms. Immediately, they were tested, and that day the entire floor was put on a five-day lockdown. Each boy was tested, told to attend classes virtually and to only leave their room to shower or use the bathroom. Meals were delivered and left outside their doors.
Two days later, we learned our son had tested positive and was moved into isolation. Like many colleges and universities, the University of Miami has a system in place to isolate students. Our son was notified, given an hour or two to pack up his necessary belongings and transported to another dorm where he was to stay for 10-14 days, depending on his symptoms. Again, his meals were delivered, he attended all classes virtually, and he now had a private bathroom. The only sunlight he saw was through the window.
Luckily for him, he was symptom-free for the entire isolation period and was released after 10 days. His roommate eventually went into isolation and was released a few days after our son. During that time, the university cleaned and sanitized their dorm room. Someone did our son's laundry, and he had a case manager and a nurse assigned to him. When I had a question, I left a message for the nurse and she returned my call within a few hours.
Admittedly, our son has the perfect temperament for dealing with being quarantined at the beginning of his freshman year of college. He's super easy going, doesn't get stressed out or angry, and pretty much rolls with the punches. And, thankfully he wasn't really sick. Sure, he was bored, but he and his new friends (most of whom were also asymptomatic and in isolation) organized a nightly Zoom call and communicated constantly via a group chat. My husband and I, along with other family members, reached out by phone, Zoom, and FaceTime, and my son had classes and schoolwork to keep him somewhat busy.
As parents, we were pretty calm about the whole thing, too. Being so far away, there wasn't much we could do except check in with our son on a daily basis. During his isolation, the university created a COVID-19 Dashboard, which is updated twice daily and provides thorough data. We are able to see how many tests have been done, how many were positive, how many students are in isolation or quarantine, and how many have recovered. No one at the U has been hospitalized. Thankfully, the numbers are headed down and we are hopeful our son will be able to remain on campus and complete his first semester in person.
Another reassuring factor for us: the President of the University of Miami, Dr. Julio Frenk, M.D., came to the university five years ago with a very impressive background in public health. For nearly seven years, he was the dean of the Harvard T.H. Chan School of Public Health. Prior to that, he was the Minister of Health in his native Mexico for six years, where he was the founding director-general of the National Institute of Public Health. Dr. Frenk has been communicating with parents for months via emails, videos, and virtual town halls. He's been honest and open and remains cautiously optimistic.
Every college and university is handling the pandemic differently and they all have unique plans to take care of students who test positive. My advice to parents: know in advance what your child's college's policies and procedures are around COVID-19. Talk to your student about what to do if they are exposed, experience symptoms, or test positive. Most importantly, try to relax and let your child enjoy their college experience. Hopefully, they will stay healthy. If they are exposed, our son and his friends' experience indicates they will most likely have few if any symptoms, their college will take good care of them, and they will get out of isolation with a renewed appreciation for a tiny dorm room and a shared bathroom.