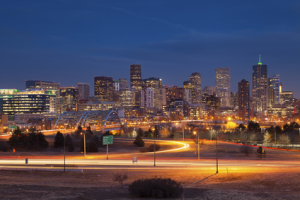 Whether you're a Colorado native or not, and regardless of where you plan to go to college, you might want to strongly consider settling here after graduation.  The state has become a very attractive destination for recent college graduates for many reasons: the weather, the mountains, the lifestyle, etc.  But one of the most important reasons is that Colorado, and Denver in particular, has great job opportunities, many of them high-paying.
Consider the following statistics:
There are only 16 states that have restored all the jobs lost during the recession, and Colorado is one of them.
In 2013, Colorado had the fourth-strongest job growth in the U.S.
Average wages in Colorado are 18% higher than the national average.
According to The Denver Post, "Colorado's economy is growing under the power of construction, energy, aerospace and technology-producing industries that demand skilled, educated workers."  Compared to the national average, Denver has 24 percent more workers in jobs that require a college degree or technical training, making it seventh among the top 50 metro areas.
The following graph, which recently was published in The Denver Post, paints a very sunny picture of the job opportunities in Denver.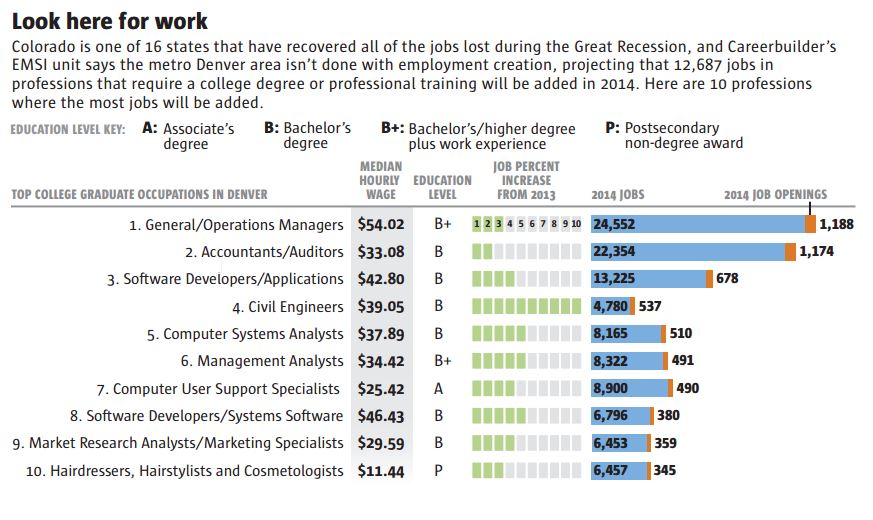 In addition to good job prospects, Denver also is a relatively affordable place to live, with an average rent for one-bedroom apartment of $1,248.  Apartments.com ranked the city number one in its list of "Top 10 Best Cities for Recent College Graduates."  In addition to affordability, the list was based on cities' median age, employment opportunities, career-development potential, salary, and "city scene".  Denver's median age is 31.5, its unemployment rate is 4.3%, and its median income is $64,267.
The affordability measure comes with a caveat: an economist with the Colorado Division of Housing pointed out that for an individual to afford a one-bedroom apartment in Denver, he or she would need to make at least $47,500 per year.  Of course, if you're willing to have a roommate or two, you'll pay far less in rent.
Young people who move here will hardly have a difficult time finding friends their own age.  Since 2010, Colorado's residents have been the fourth-youngest in the country, and 11.9 percent of its population is ages 25-29.
As someone who moved to Denver in her 20s, I can attest to the fact that it's a fantastic place for young people.  Denver is known as a great location for outdoor enthusiasts, and indeed, whether you enjoy skiing/snowboarding, mountain biking, hiking, rock climbing, camping, or all of the above, you can access all of these activities within a couple hours' drive or less.
If your interests lean more toward the cultural, there are world-class museums and performing arts; in the summer, you can find a festival, a free concert, and/or a free outdoor movie almost every weekend.  In terms of culinary options, there are food trucks, five-star restaurants, and everything in between; in fact, Travel and Leisure magazine ranked Denver 13th on its list of best cities for foodies.  Finally, because so many of the young adults in Denver are transplants, it's fairly easy to meet people and make friends.
So come for a visit!  Chances are, you may end up staying for awhile.  Or forever.