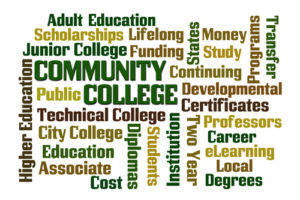 Parents often ask me if their children should begin their college education at a community college and then transfer to a four-year college to complete their Bachelor's degree.  Community colleges offer a number of benefits, such as lower tuition, smaller classes, and in some cases, more support.  Yet there are also some drawbacks of transferring from a two-year to a four-year college.  In determining whether this path is right for you, consider the following questions:
What are your career goals? Different jobs require different levels of education.  You can get started in some fields with a certificate or two-year Associate's degree, but you may have to continue your education in order to advance to a higher-level (and higher-paid) position.  Nursing is one such example.  You can become a nursing assistant or nurse aide by completing a certificate program that takes as little four weeks.  To become a Registered Nurse (RN), you'll need at least an Associate's degree, but a four-year Bachelor's degree likely will result in more job prospects and a higher salary.  In contrast, dental hygiene is a career that does not require education beyond an Associate's degree.  The U.S. Department of Labor's Occupational Outlook Handbook is a great resource for learning about what type of education is required for different careers.
What level of education do you ultimately want to achieve?  This, of course, will depend on your answer to the first question.  If you've determined that a Bachelor's degree is required for the career you're interested in, that means you ultimately will need to graduate from a four-year college, so if you start at a community college, you'll have to transfer to complete your degree.  Transferring isn't always easy, however, and it's important to investigate what will be involved in the transfer process.
Most people's main concern in transferring is whether all of their community college credits will be accepted at a four-year college.  Many community colleges have articulation agreements with public four-year colleges in the same state.  This means that if students take certain classes at the community college, the credits are guaranteed to transfer to an in-state, public four-year college.  (To learn more about the articulation agreements between Colorado's community and four-year colleges, click here.)  However, if you want to transfer to an out-of-state public college or a private college, you may find that not all of your credits will transfer.   If that happens, starting at a community college may not turn out to be as much of a money-saver as it initially appeared to be.
The best way to ensure that most or all of your credits will transfer from a two- to a four-year college is to communicate with the college you intend to transfer to.  Ideally, you would begin doing that when you first enroll at the community college, but many people don't know where they want to transfer that early in the process.  Therefore, you need to be aware of and prepared for the possibility that it may take longer than four years to earn your Bachelor's degree if all your credits don't transfer.
What are your reasons for going to college?  If you want to attend college solely to get an education, a community college might be a great starting point.  However, if you also desire the "college experience" — i.e., living in a residence hall, participating in sports and/or activities, and having a social life — it will be more difficult to find those elements at a community college.  Most community colleges do not have housing, and their extracurricular offerings are limited.  While you might make friends with people in your classes, it could be harder to socialize with them, as many community college students work in addition to going to school and/or are older students with families and other commitments.  If you're longing for a more traditional college experience but still want to attend a two-year college, you might consider junior colleges, which have many of the "college life" features typically found at four-year colleges.
If the social aspects of college are important to you, keep in mind that transferring to a four-year college versus starting there may make pursuing those opportunities more complicated.  Students who have been at the four-year college since their freshman year likely will have already formed their friend groups.  If you know where you'd like to transfer, find out how many transfer students the college enrolls each year, as more transfer students will mean more chances to meet people who are also new and looking for friends.  Additionally, inquire as to whether the college offers programs and activities specifically for transfer students, as this type of programming will help you meet other students like yourself.
What is your financial situation?  One of the main reasons people start at community colleges is because they generally are much less expensive than four-year colleges.  That being said, some four-year colleges may not have the same kinds and amounts of financial aid for transfer students as they do for freshman.  For example, a college may offer the majority of its merit scholarships to first-year students and may have little or no merit money available for transfer students.  Furthermore, as stated previously, if all of your credits don't transfer, you will end up spending more money at the four-year college than you had planned on.  Once again, it helps to know where you'd like to transfer so you can find out about that college's financial aid process ahead of time.
How academically prepared are you for college? As mentioned above, community colleges can offer more support and smaller classes. For students whose knowledge and skills may not be at the level necessary to succeed at a four-year college, community colleges offer courses to get students "college ready" in math and English. Also, community college teachers are specifically hired to teach, whereas professors at many four-year colleges are expected to spend considerable time doing research. Thus, a community college might be a great option for students who need additional time and support to be successful.
At the end of the day, there is no "one size fits all" college education.  As you weigh the idea of going to a community college, consider the above questions to help you make the decision that is right for your goals, desires, and budget.