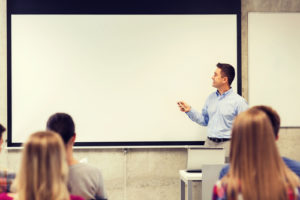 As school gets underway, so do college admissions counselors' visits to high schools.  As with college fairs, these visits give students the opportunity to learn about different colleges and to connect with the people who read and make decisions about applications.  Unlike a college fair, an admissions officer's visit to a high school typically involves a much smaller group of students and is far less hectic.
When they come to high schools, college admissions counselors usually give a short presentation and then answer questions.  For 9th through 11th graders, these visits are a chance to learn about different colleges, to figure out what you like and don't like, and to narrow down what you're really looking for in a college.  For seniors, an admissions officer's visit can help you decide where to apply, and it can be particularly helpful if you haven't had the chance to tour the college.  For all students, attending admissions conselors' visits is a way of demonstrating interest in a college — something that many colleges take into account when making admissions decisions.
Colleges typically divide their admissions counselors by region, so chances are that the person who comes to your school will be the person (or one of the people) who reads your application.  Therefore, take the time to introduce yourself, especially if you're a senior who's planning to apply.  Then, when the admissions officer who visited your school sees your application, he or she hopefully will be able to put a face to your name.
So, how do you find out about admissions officers' visits to your school?  If your school uses Naviance, chances are visits will be posted there, and you should be able to sign up for them through Naviance as well.  If your school doesn't use Naviance or you don't see college visits listed on it, check with the counseling office.  Once you've registered for a visit, be sure to find what you need to do in order to leave class to attend, i.e., will you be sent a pass, do you need to get a pass, etc.?
If you're unable to attend an admissions counselor's visit to your school, get the person's name and contact information and send an email letting him/her know you are interested in the college but couldn't go to the visit.  You also can see if that college will be at a local college fair.